If you live in a cold weather region you may be looking forward to the spring. With spring comes huge amounts of water which can wreak havoc on homes which have experienced damage in the cold weather months. The problem with weather damage is that it is often not realized until signs begin to show. By then, it can really get out of control quick. Even a small trickle of water can cause thousands of pounds of damage if not caught early.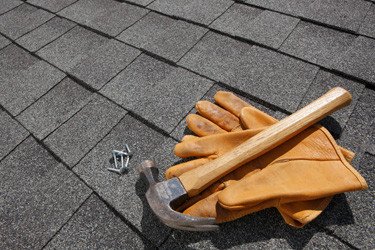 The freeze, thaw cycle of the cold weather regions can really be hard on your roof. When you experience snow and ice, it is possible for it to get up and under the roofing material. When it freezes it can expand the materials, and then when it thaws, it can get into your home. Just the smallest of leaks can do some significant damage. When the snow and ice begins to melt, it is imperative that you watch for signs of damage to the roof before they get out of control. If you are concerned about what the winter has done to the exterior of your home, hire a roofer to inspect your roof and put your mind at ease.
Not all roofers are the same. Before hiring one make sure that they are reputable. You will have no way to verify what they tell you about the condition of your roof, so it is best to ask for pictures. Since you won't be getting up on the roof yourself, if they can provide proof, that is always best. If they do suggest that work be done, try to get several opinions and estimates. There are always many different ways to tackle roofing problems. Some roofers may want to repair, and some replace.
If it has been a while since you have had roofing work done, you may want to consider replacing your roof. A quick patch up roof repair or even repairs on a roof that is quickly becoming old and dated, may just lead to more problems than it is worth. Water damage can be a very expensive thing to a home. Sometimes it is cheaper to just replace the roof to avoid damage to it. Before having any work done, make sure to get a contract in writing. Check to make sure they have the proper licensing and insurance to protect yourself. The more research you do, the more you are insuring that the work will be done correctly. We can fit barge boards to your home or property.
There are some solid steps one may take to ensure longer roof well-being.
Look For Damaged Tiles
Damaged roof tile is number one adversary for room damage. This is important to carry out periodic check-ups of roof-tiles, for putting your fingers on loose or cracked ones. Once you have spotted one, don't postpone replacing it with a new one.
Despite the fact that the replacing process may sound too easy to carry out on your own, it's not advisable to do it for safety hazards. Instead, take help of a professional. Ensure that the new tile should be coated with water-proof sealant.
Don't Let Moss Grow
When there is moss growth on your roof-top, rest assured that it will splash the tiles and woods underneath. To remove it- scrape the moss off with a broom. For extended moss growth, application of some chemical solutions is needed. Buy a moss-removing solution that has potassium salt in it. Remember, that moss growth reaches its peak during summer.
Side note: there is moss and there is spread of black algae. Many inter-mix this two but the glaring contrast lies in the way that- while black algae look ugly, they don't affect the roof health.
Keep A Tab On Flashing And Gutter
Does your house have chimney? Do you have satellite dish looming over the roof-top? Then both of them must be covered with silicone sealant- called "flashing". Any crack or crevice on the flashing may let the water enter into it and start internal seepage. Crack on flashing mainly takes place during harsh summer, stormy weather or when it's snowing outside.
Similarly, unclogging of gutter is a must-to-do step for ensuring life-span of roof. In any case, water is pooled underneath of eaves, gutter almost tearing away from roof or sagging in various parts- call up a pro for the fix.
Let Air Flow Freely
If the vents are clogged with tree leaves, old nests or cobwebs, then it will definitely block the air to pass freely. It will lead to moisture build-up from inside of the roof. That's why time-to-time ventilation examination is mandatory. Unblock the vents with an old paint brush swiftly.
In case your shingles are showing signs of contorting or cracking, then it might stem from poor ventilation. The best part is that- you can install vents any time you need. It doesn't matter if they were not set-up during roof installation.
Some DIY Tips
Does your roof have overhanging tree branches on it? At that point, always trim the twigs about 10 ft away from the roof. Fallen tree branches can do irreparable damage to the attic, especially during stormy weather or downpour.  If there is a small leakage on the roof, then sometimes, it can be possible to patch it up on your own.
First, remove shingles from the affected area, spread on a felt layer and then start re-building up the shingles from bottom-up. Ensure that you have all safety gears in places. Most importantly, you need to have an expert supervision while doing this job. Best would be to contact to a specialist.